Welcome to HomecAir Heat Recovery Ventilation & Central Vacuum Systems.
We are specialist designers and installers of heat recovery ventilation systems. Above all we believe your home should be a healthy place to live. Good ventilation and good indoor air quality go hand in hand. For 20 years HomecAir have been helping customers strike the balance of good ventilation and energy efficiency with our dedicated ventilation design and install team.
The need for ventilation has always existed and as insulation levels in our homes increase so should our ventilation levels.
Professional Installation
Local, specialist and professional. There is no substitute for doing things right. Only correct and effective installation of your Home Heat Recovery Ventilation unit and appropriate ducting system will result in an efficient, comfortable, healthy ventilation system for you and your family in your new or existing home.
Homecare Systems was formed with the purpose of improving air quality within homes in Ireland through the engineer led design, supply and installation of proven Mechanical Ventilation Systems and Central Vacuum systems.
Homecare Systems is a highly respected local company with 20 years of experience in delivering bespoke quality Home Ventilation systems (MVHR, HRV) & Central Vacuum systems throughout Northern Ireland, UK and Ireland.
HomecAir Heat Recovery Ventilation/ Mechanical Ventilation Heat Recovery Systems
By choosing HomecAir you are choosing to have a home ventilation system designed and installed to the highest standards, using only industry proven products. You are choosing uncompromised air quality while taking the heat retention of your home beyond insulation and airtightness. Something our valued customers have been doing for 20 years throughout Northern Ireland, UK and Ireland.
Knowing Your Heat Recovery Ventilation System
It is important with, all mechanical ventilation systems installed, that the home owner/ end user is familiar with their system's controls and with the relationship between the filtration in their system and the air quality in their home. Your HomecAir ventilation system is equipped with allergy friendly high grade filtration, making it better at removing pollen and pollution to help provide you with a healthier environment inside your home.
Renew your filters
Don't forget to change your ventilation system filters. Your HomecAir control panel will remind you. Neglecting to maintain the system through filter change will lessen the system performance.
KitchenClear
Read more about new KitchenClear
https://www.homecaresystems.biz/kitchenclear/
HomecAir Central Vacuum Systems
Creating a healthy home has never been as easy and as comfortable as it is today. A  HomecAir Central Vacuum system is the perfect accompaniment to your HomecAir Home Mechanical Ventilation system. Providing superior cleaning power, shorter cleaning time and ease of use the HomecAir Central Vacuum will help to create the best living environment in your home for you and your family.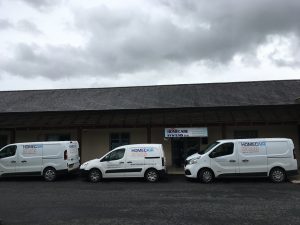 HomecAir Heat recovery ventilation